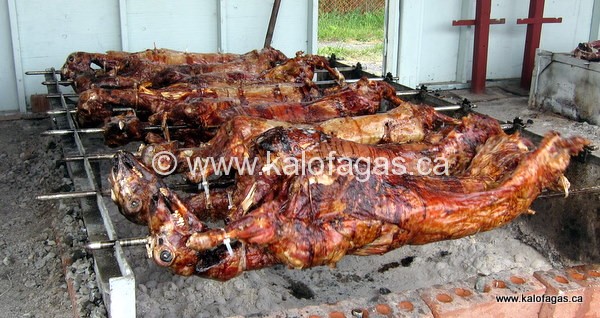 Many of you have visited my Recipe Round-Up for Lent and I hope that I've helped you find some interesting dishes to break-up the monotony of the usual Lenten fare. We're fast approaching Greek Easter and preparations are already beginning in my household! Greek Easter is centered around lamb or goat and the whole day is filled with celebration, eating, cooking, dancing, celebrating some more, drinking and eating some more!
Ouzo usually makes its rounds on Easter and I recommend you buy a bottle or two. The wine should flow on Easter and if there was ever a day you should drink Greek wine, Easter Sunday is a as a good of a day to try some wines out. If you're looking for lamb, I recommend those living in the Toronto area to visit Kostas Meat Market. Kostas' shop is in Scarborough and he brings in only farm-raised Ontario lamb.
Below are some links to recipes that I think you may want to have as part of your family's Easter celebration. Greeks do Easter in a BIG way and I think you pull-off your own celebration just like we do!
Tsoureki (Greek Easter Brioche)
Magheritsa (Easter Soup)
Neo-Mageritsa (without offal)
Asparagus and Roasted Red Peppers
Beans With Roasted Garlic, Capers and Parsley
Grilled Halloumi With Roasted Red Pepper Sauce
Rack of Lamb With Lemon Verbena
If you are not reading this post in a feed reader or at  http://kalofagas.ca then the site you are reading is illegally publishing copyrighted material. Contact me at truenorth67 AT gmail DOT COM. All recipes, text and photographs in this post are the original creations & property of the author.
© 2007-2011 Peter Minakis
© 2014,
Peter Minakis
. All rights reserved.